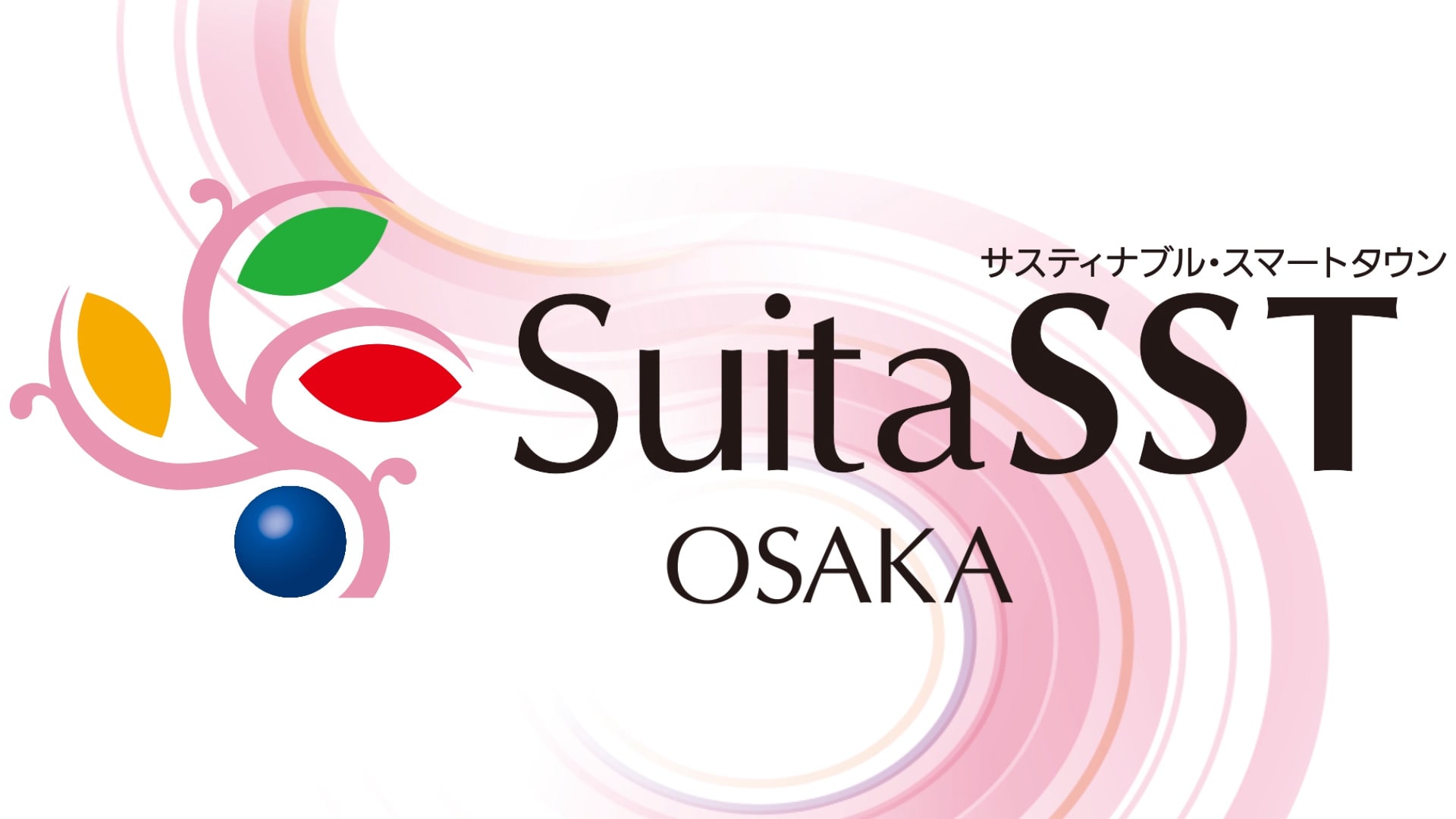 The Suita Sustainable Smart Town is a town building project,
engaging in advanced town planning to help resolve issues faced by today's society,
which is organized by 16 companies & Suita City.
ABOUT
Suita Sustainable Smart Town (Suita SST) is the third Sustainable Smart Town project to utilize a former factory site based on the CRE (Corporate Real Estate) strategy developed by Panasonic Corporation. Following on Fujisawa SST in the city of Fujisawa and Tsunashima SST in Yokohama, both in eastern Japan's Kanagawa Prefecture, Suita SST is being developed in western Japan as a next-generation smart town in partnership with Suita City, Osaka Prefecture.
Panasonic's Sustainable Smart Towns
Town development based on individual lifestyles
The Sustainable Smart Town concept departs from the typical overemphasis on infrastructure by focusing on "people," proposing sustainable smart living through optimal space design and services tailored to individual lifestyles.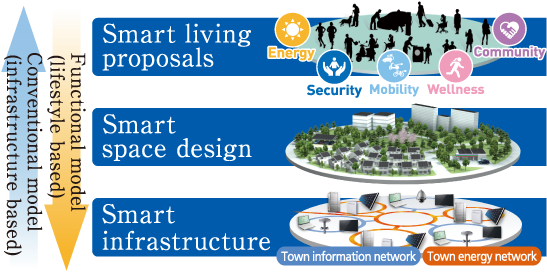 Addressing social and regional issues through co-creative innovation and proposing new ideas in Town development
The Sustainable Smart Town concept aims to address various social and regional issues through town development by co-creation among partner companies, residents, local government, and academia. Developing and testing next-generation energy, security, mobility, wellness, and community solutions in this way increases regional value and gives rise to new ideas for town development.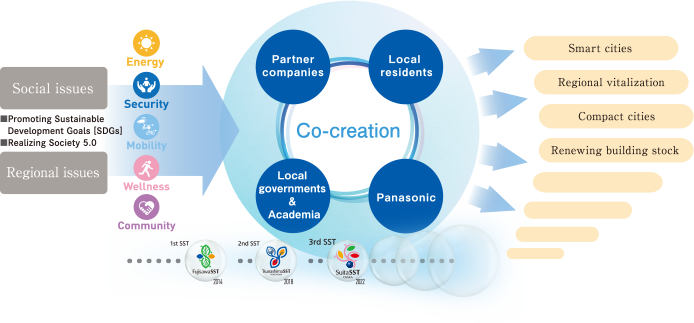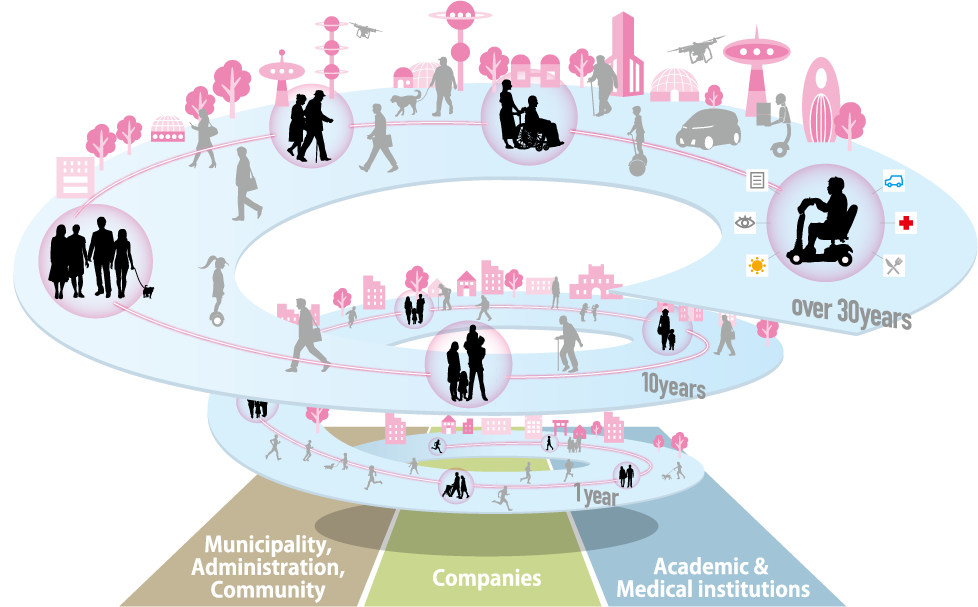 CONCEPT
Envisioning a Model Society
It is important to aim for decarbonization and to respond to a super-aging society for town development in the future. We believe that we should not look away from social challenges and changes in social environment surrounding us, but should seek solutions by finding out prospective paths one by one and implement them in our daily live.
One of those paths is, for example, to cover electricity for the town with renewable energy, by which carbon neutrality will be achieved first in the world. Another is to grasp the needs of each person that are constantly changing hour by hour and with the times and to continue to provide optimal services by which tomorrows where people are healthy and lively will be achieved.
Under the concept of "Suitable Town for Fine Tomorrows," Suita SST strives to propose solutions and services that would have become normal in future town development and to make efforts to develop such a community as a pioneer in a new era.
Suita SST
Town Themes
Multi-generation
living
Wellness
Community
involbement
Suita SST Proposed Benefits


~Suita SST's Vision~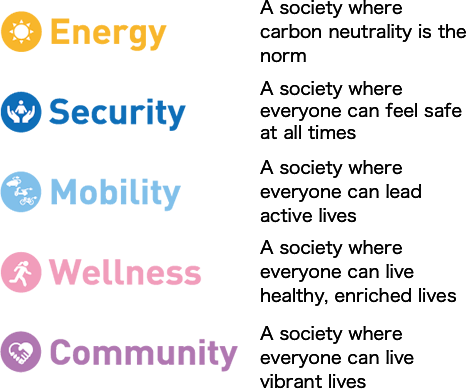 SERVICE
Major Initiatives in 5 Service Areas (planning underway)
A society where carbon neutrality is the norm
~ A community that makes maximum use of renewable energy sources and can function even during emergencies ~
●Japan's first Renewable Energy 100 Town※1
Suita SST will become a Renewable Energy 100 Town, a town that is powered by virtually※2 100% renewable energy.
※1:The goal is to procure virtually 100% of the energy consumed by the town from renewable energy sources. We will realize this goal for at least five years after the town is up and running. This is the first initiative in Japan that involves the entire town, including commercial and residential facilities. (According to the survey conducted by Kansai Electric Power Co., Inc.)
※2:Kansai Electric Power Co., Inc. will supply Suita SST with non-fossil fuel certificate qualified, environmental-value-added renewable energy, thus virtually 100% of the energy consumed by Suita SST will be sourced from renewable energy.
●Collectively receiving electricity
in the entire SST town Receiving electricity with two lines to reduce the risk of power outages
Electricity is collectively received at high voltage by the entire town and then supplied to each facility. The risk of power outages in the entire town is reduced by feeding in two lines, regular and spare lines, which is possible only because of a collective electricity receiving system in the area.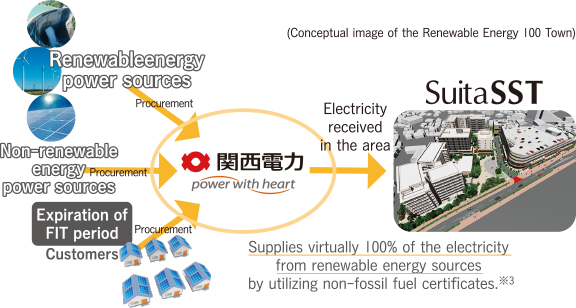 ※3:The environmental value of renewable energy is converted into certificates that can then be traded.
●Energy resilience initiatives that utilize solar panels, storage batteries, EV charging stations, and advanced gas appliances, etc.
We are working to improve the resilience of the entire town through the use of solar panels, storage batteries, EV charging stations, and advanced gas appliances, etc.
Service providers: Kansai Electric Power Co., Inc., Osaka Gas Co., Ltd.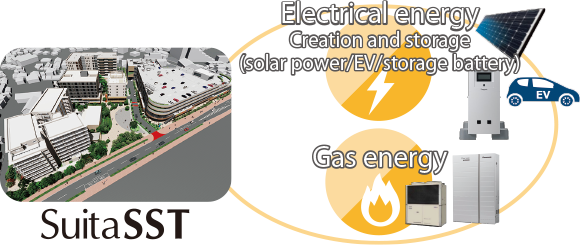 ●Advanced ENE・FARM featuring the sharing function Introduced to Wellness complex
ENE・FARM is a home-use fuel cell system that generates electricity and heat from city gas. Suita SST is equipped with the advanced function where waste heat from one ENE・FARM is shared with multiple units for efficient use even in single-person households where heat demand is minimal.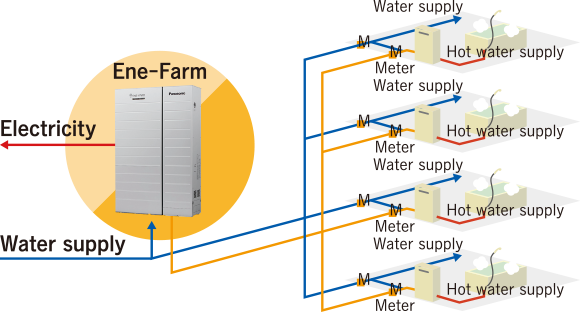 A society where everyone can feel safe at all times
~ A town where residents and visitors feel safe at all times ~
●Alsok Standby Station in Suita SST
The Alsok standby station is set up in Suita SST to ensure daily safety such as emergency response.
●Town Security Camera
The system uses AI and a high-performance town camera equipped with 4K to monitor the city and analyze the acquired image data, such as falls, congestion, wheelchairs and white canes.
Main operator of services: Sohgo Security Services Co., Ltd. (ALSOK)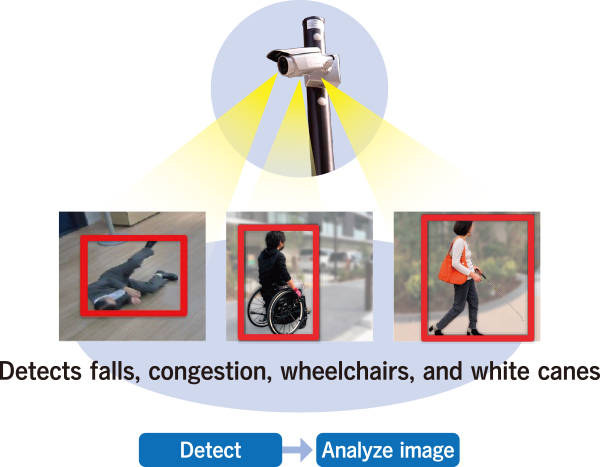 A society where everyone can lead active lives
~ A town that provides convenient and safe mobility services optimal for each individual ~
●Becoming a home away from home
Enjoy nature and savor foods unique to rural areas while living in the city. We offer a lifestyle that helps you feel close to the countryside.
Service providers: West Japan Railway Company

●Environment-conscious mobility sharing
Conducting field experiments of electric mobility and cycle sharing in collaboration with Suita city.

A society where everyone can live healthy, enriched lives
~ A town where everyone can live a healthy, active life ~
●Support the promotion and maintenance of health based on personal health data
We will support the promotion and maintenance of health in consideration of changes in people's physical condition, including the recommendation of ingredients based on the constitution of residents and their daily vital data.
Main operator of services: Kowa Company, Ltd.
●Early detection of cognitive function decline applying IoT and evidence-based care
Digitizing daily behavior applying behavior-sensing technology. Original care programs support elderly residents to have healthy and active lives.
Main operator for services: Gakken Holdings Co., Ltd.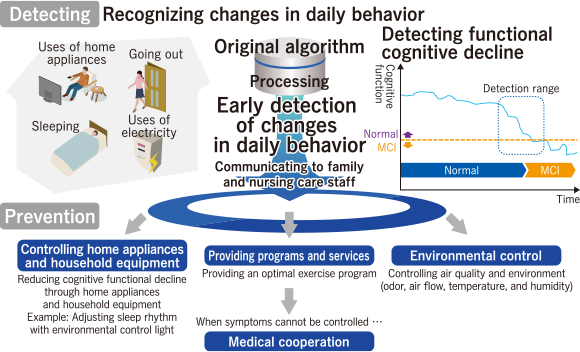 ●Codes to create a healthy town linked to health from three viewpoints of mind, body, and society
By formulating nine codes for the three items of the Mind, Body, and Society from an academic point of view, the space of the town and the design of the services incorporate factors linked to health in Suita SST.
※Supervised by Takenaka Corporation and the Center for Preventive Medical Sciences, Chiba University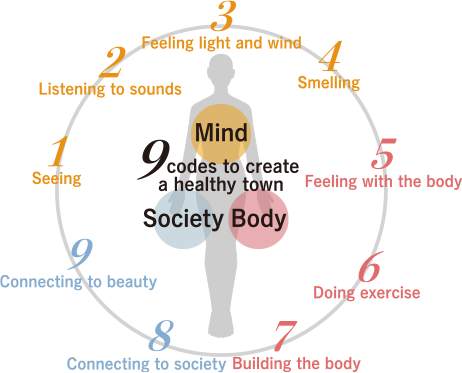 A society where everyone can live vibrant lives
~ A town where people from different generations interact naturally and support one another ~
●Community park and town management to encourage cross-generation interaction
We are planning various initiatives such as food truck events to encourage interaction between residents of Suita SST and other communities.

●Town portal as a touchpoint to connect the residents to the town
Easy-to-use user interface (UI) for a multi-generational town. It functions as a community-building tool.
Service provider: Prime Life Technologies Corporation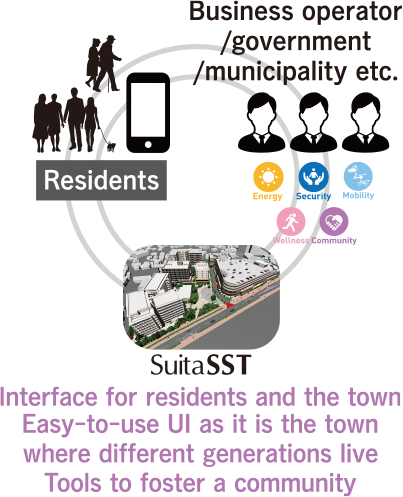 TOWN
Future town to create together with residents' smiles and wellness
Suita Sustainable Smart Town (Suita SST), along with its residents, the local government, the administration, universities, and partner companies, has its cornerstone in an eco-friendly, safe and secure life with preparations for natural disasters. This town focuses on co-creating a life where residents will live a long life and stay healthy for life. Multiple generations from children to the elderly help each other and interact with local residents to grow Suita SST where its residents can enjoy their daily lives.
Overall goals of the town
Suita SST will set environmental goals and resilience goals for ensuring safety and security expected of a next-generation urban smart town. We will also implement initiatives that focus on people's health, one of the themes of the town.
Environmental goal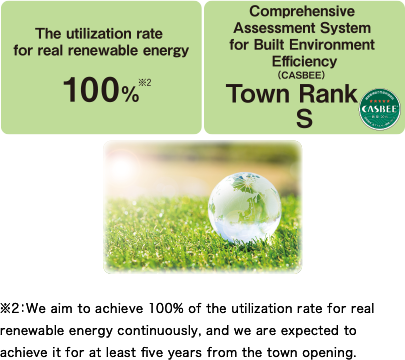 Target of resilience
Continuity of life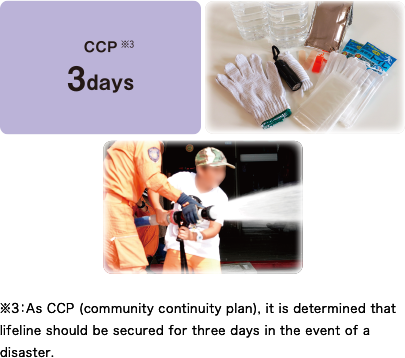 Our approach to health
Ways the town promotes health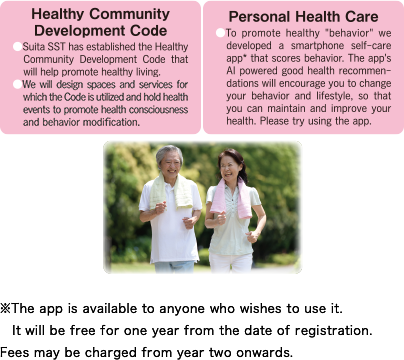 Town Portal to support daily life
Interface between
the residents and the town
Easy User Interface
to use because this town is
where multi-generations live
Tools to foster
a community
Town Web portal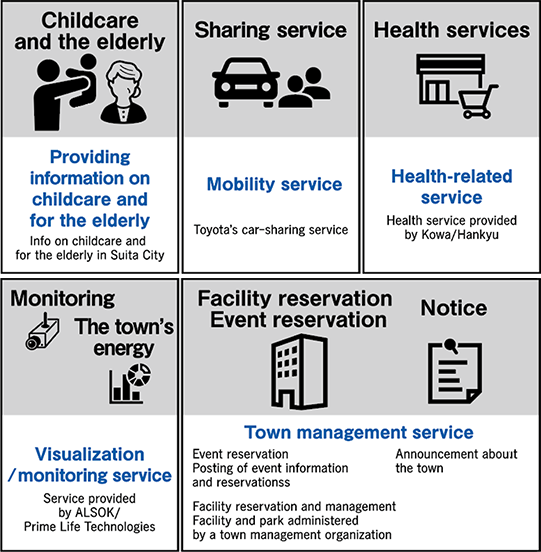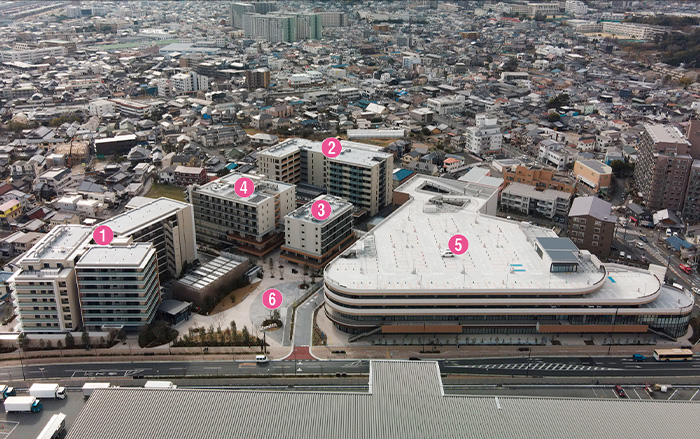 PLAN
Suita Suita SST is designed to be a town where multiple generations - young people, families, and senior citizens – live together and interact. In addition to 362 residential units, the smart town will also include a wellness complex, a commercial complex, and a community park.
1

Family condominiums
〈Name: Parknade Grand Suita SST〉

Number: 100 units in an 8-story building Land area: 3,921.48㎡
Management: Panasonic Homes Gojinsha Community Co., Ltd.

2

Senior condominiums
〈Name: Parknade Suita SST Éclat〉

Number: 126 units in an 8-story building Land area: 3,782.62㎡
Management: Nakagin Integration Inc.

3

Share housing for single-person households
〈Name: OGU HOUSE SUITA SST〉

Number:73 units in a 6-story building Land area: 803.69㎡
Management: Osaka Gakuin University

4

Wellness complex
〈Name: Gakken Multi-generation Square Suita SST〉

7-story building
Land area: 2,142.66㎡Elderly housing with a community hall and support services
Number: 63 units Group home for elderly residents with dementia, facility for home nursing care, tutoring school, and authorized nursery school
Management company: Gakken Group

5

Commercial complex
〈Name: OASIS Town Suita SST〉

4-story building (shops on 1st & 2nd floors) Land area: 9,150.76㎡
Management company: HANKYU OASIS Co., LTD

6

Community park
〈Nickname: Suita Suitable Square〉

Land area: 1,408.97㎡
Developers:
Panasonic Homes Co., Ltd.
JR West Real Estate & Development Company
PARTNER
Councils of Suita Sustainable Smart Town
Lead Organizers
Organizers
Council members
Advisers
OVERVIEW
Cooperation between Suita SST and Kento
Collaboration between Suita SST and the Northern Osaka Health and Biomedical Innovation Town (NohBIT)
that Suita City is developing nearby will increase the value of the entire region.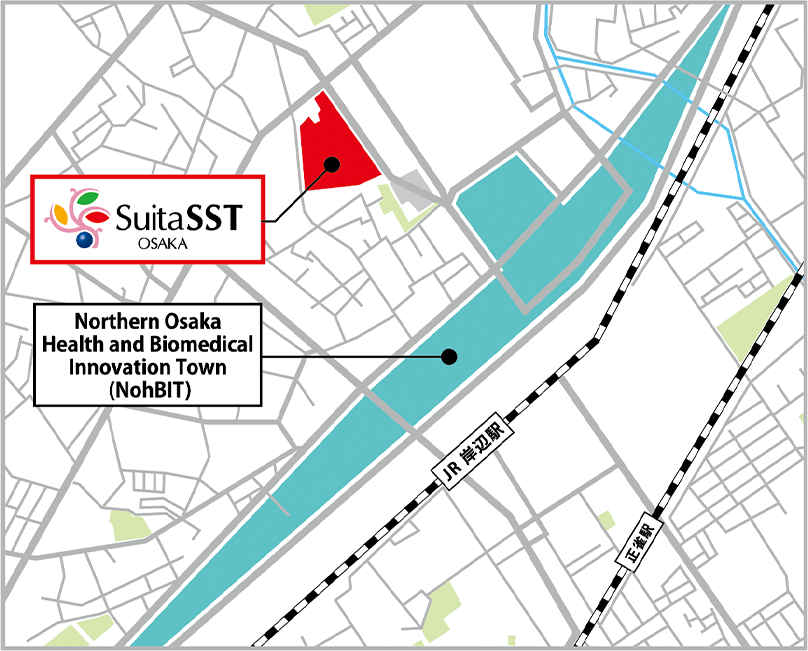 Project Outline
Location

Kishibenaka 5-chome, Suita City

Access

9-min. walk from JR Kishibe Station

Land area

23,379.79㎡

Surrounding
area

An urban development project is planned for the area on the east side of this project. Connecting roads were opened in February 2019.